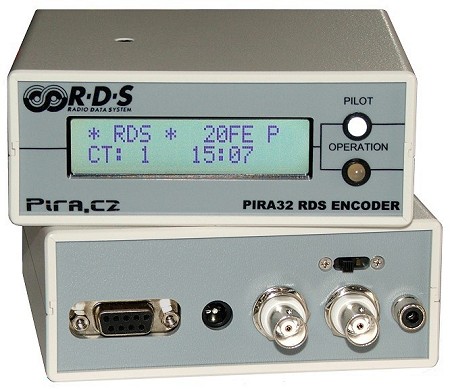 The PIRA32 RDS encoder meets requirements of most radio stations. Fully digital concept and uniquely effective design ensures high reliability, excellent signal characteristics and gives the user many advanced features.
MB STUDIO 8 PRO manage directly the RDS encoder controlling:
PS Program Service: a short station ID (8 characters):
Dynamic PS1: up to 255 characters text where MB STUDIO automatically display the current song title or program title
Dynamic PS2: up to 255 characters text where MB STUDIO can display the current date/time or any other caption or ads that you can schedule at any time/day using the powerful AGENDA of MB STUDIO 8 PRO.
Traffic Announcement: when MB STUDIO play an item flagged as "News" or "Local News", the Traffic Announcement is automatically switched on
Frequency List: MB STUDIO configuration allow to add all the frequencies of your station.
---
Where to buy PIRA32 RDS Encoder?  PIRA SHOP
In the shop select the component PIRA32 RDS Encoder In Box, and do not forget to order the required cables and the Main Switching Power Supply