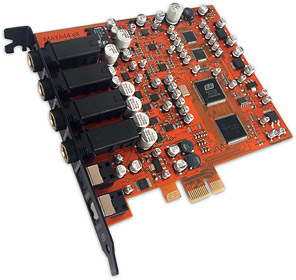 The MAYA44 EX sound card manufactured by ESI is a very good internal sound card highly recommended for use with MB STUDIO. It has 2 outputs (for example from MB STUDIO master output + pre-listening output or we can use the MULTICHANNEL OPTION). It has 2 inputs, for example to repeat audio from a satellite receiver or from external sources.
Let's see how to best configure this card to work with MB STUDIO:
First of all make sure you are using the most recent drivers, as the previous ones do not work well and the card has noises in the audio or sounds slowed down or speeded up. The drivers are here: https://download.esi-audiotechnik.com/download/ESI/MAYA44_eX/MAYA44_eX-v1_30.zip
1) after installation we access the control panel of the sound card and immediately select a buffer of 1024 samples to protect ourselves from possible disturbances in the audio.
2) now we need to go to the windows audio control panel
3) here we have to disable the Maya speaker output (as it causes noise to MB STUDIO) and the SPDIF output if you don't use it (the fewer outputs the better)
Per disattivare una uscita dare click destro e scegliere "Disabilita".
4) Now we can finally go to MB STUDIO and set the main output ch12 and the preview output ch34: